Register now for our 2019 legal conference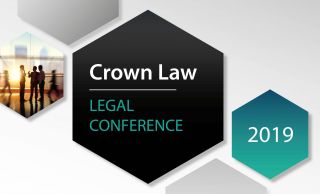 Crown Law is hosting its annual legal conference for government officers on Thursday, 6 June 2019.
The 2019 event provides the opportunity to engage in panel discussions, choose a masterclass workshop most relevant to your role and hear some of Crown Law's most experienced legal specialists lead discussions on a range of topics relevant to government officers.
This years' conference will cover the following topics:
Human Rights Act overview
Coronial investigations/inquests – in practice
PIPA and WorkCover pre-court procedures – same same but different
Overview of industrial manslaughter and work health and safety duties of officers
Panel discussion – Implied freedom and other constitutional law 'hot topics'
Masterclass and workshop sessions on prosecutions and advocacy, difficult conversations in the workplace: a guide for managers in the Queensland Public Service or legal professional privilege; public interest privilege; parliamentary privilege and waiver
Privacy law update
Management of grant funding – tips
How legislation is made: from policy to Act.
Full-day attendance is priced at $650 per person (GST inclusive) with discounts being offered for early bird registrations, group bookings and regional attendees travelling from more than 450 kilometres from Brisbane.
For more information and how to register, see the event page here.