Staff dedication, service and commitment celebrated at annual awards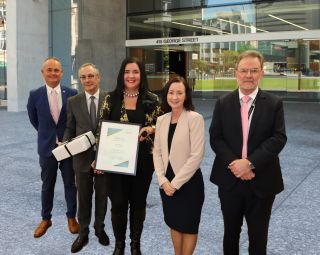 The annual Crown Law Staff Excellence Awards and Years of Service ceremony was held in the Banco Court on Wednesday, 26 June 2019.
Special guests, Attorney-General and Minister for Justice, the Honourable Yvette D'Ath, Director-General of the Department of Justice and Attorney General, David Mackie and Solicitor-General, Sandy Thompson QC addressed staff at the awards and presented certificates to recipients alongside Crown Solicitor, Greg Cooper.
All three distinguished guests praised the high quality advice and support they receive from Crown Law and commended staff on their contribution and service to the State.
14 Excellence Award were presented in seven categories, along with the recognition of 17 staff who have served at Crown Law for 10 and 20 years. A Lifetime Achievement Award was included in the ceremony for the late Tom Dickson, who sadly passed away in December 2018. Tom provided 20 years of dedicated service to Crown Law and was a much loved and valued member of staff.
Congratulations to the following excellence and years of service recipients:
Award

Recipient

Crown Solicitor's Award – for commitment to Crown Law's vision, purpose and core values.

Sylvia Bruno
Receptionist,
Crown Law

Crown Law's Choice Award – presented to the staff member for the excellence they provide in their role and to the practice as nominated by their colleagues.

Lara Rega
Assistant Crown Solicitor, Government Insurance and Risk

The Client Award – awarded to the staff member who has provided the highest level of client service.

Phoebe Everingham
Acting Senior Principal Lawyer, Workplace Law 2

Corporate Support Award – presented to a Practice Management Branch staff member who consistently provides outstanding support.

Kathleen Hartley
Document Production Supervisor,
Document Production

Legal Expertise Award – presented to legal officers who have managed a significant matter, exhibiting their expertise and providing excellent client service.

Jody Cosgrove
Senior Principal Lawyer,
Workplace Law 1

Legal Expertise Award – presented to legal officers who have managed a significant matter, exhibiting their expertise and providing excellent client service

Bernadette Wrafter
Special Counsel,
Native Title and Resources

Legal Expertise Award – presented to legal officers who have managed a significant matter, exhibiting their expertise and providing excellent client service.

Dallas Cluff
Principal Lawyer,
Commercial and Property

Legal Expertise Award – presented to legal officers who have managed a significant matter, exhibiting their expertise and providing excellent client service.

Peter O'Connor
Acting Senior Principal Lawyer,
Prosecution and other Advocacy

Legal Support Award – presented to legal support officers who consistently deliver exceptional service to their team and across the practice.

Angela Nguyen
A/Legal Clerk,
Workplace Law 1

Legal Support Award – presented to legal support officers who consistently deliver exceptional service to their team and across the practice.

Julia Chapman,
Executive Legal Secretary
Commercial Dispute Resolution

Legal Support Award – presented to legal support officers who consistently deliver exceptional service to their team and across the practice.

Lisa Larsen
Executive Legal Secretary
WorkCover

Legal Support Award – presented to legal support officers who consistently deliver exceptional service to their team and across the practice.

Natalie Platell
Executive Leagal Secretary
AG Advocacy

Lifetime Achievement Award – recognising Tom Dickson's lifetime contribution to Crown Law.

Tom Dickson

20 years of service

Barry Mills
Manager,
Business Systems Team

20 years of service

Jan Mills
Senior Principal Lawyer,
Government Insurance and Risk

20 years of service

Maree McCluney
Senior Legal Secretary,
Commercial and Property

20 years of service

Paula Freeleagus
Assistant Crown Solicitor,
Commercial Dispute Resolution

20 years of service

Wendy O'Meara
Reference & Research Librarian,
Library

10 years of service

Angie Moore
Senior Lawyer,
WorkCover

10 years of service

Alice Mair
Project Officer,
Business Improvement and Transformation Project

10 years of service

Carrie Tobler
Senior Principal Lawyer,
Native Title Claims and Agreements

10 years of service

Chloe McCotter
Business Services Supervisor,
Records and Document Production

10 years of service

Crystal McPhie
Principal Lawyer,
Commercial, Property, Insurance and Risk Branch

10 years of service

Debbie Malezer
Senior Legal Secretary,
WorkCover

10 years of service

Elene Tzimas-Fox
Principal Lawyer,
Commercial and Property

10 years of service

John Heaney
Special Counsel,
Native Title and Resources

10 years of service

Megan Newell
Senior Legal Secretary,
WorkCover

10 years of service

Karen Foulds
Senior Principal Lawyer,
Government Insurance and Risk

10 years of service

Caroline Helman
Principal Lawyer,
Native Title, Resources & Dispute Resolution Branch

10 years of service

Kellie McGrow
Senior Legal Secretary ,
Native Title, Resources & Dispute Resolution Branch