History in the making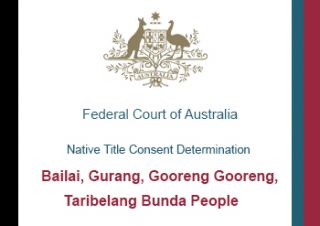 Twenty years of litigation came to an end on 28 November 2017 when Justice Dowsett sat at the Gladstone Entertainment Centre to recognise the native title held by the Bailai, Gurang, Gooreng Gooreng, Taribelang Bunda People.
The native title determination, made by consent of all parties, recognises non-exclusive rights in more than 4,000 square kilometres of land and waterways along the coast between Gladstone and Bundaberg and inland towards Monto at its widest point.
The determination will not take effect until two indigenous land use agreements (ILUAs) negotiated between the native title holders and the State of Queensland have been registered. The Tenure Resolution ILUA seeks to provide certainty by confirming that native title, if any, will be surrendered over 85,000 parcels of land and waters that were excluded from the determination but were otherwise within the external boundary of claim. The Protected Areas ILUA addresses the manner of exercise of native title rights and interests in 20 national parks within the region.
Taken together, the determination and Tenure Resolution ILUA represent the largest number of tenures that the State of Queensland has ever sought to resolve by consent in the native title context. Assistant Crown Solicitor Kristy Snape said it was the most complex matter she had ever worked on with more than 1100 pages of drafting across the three agreements.
The parties were assisted in resolving the native title position on the enormous number of tenures involved by using a web portal recently released by the National Native Title Tribunal. The portal enabled them to see the areas in question spatially as well as the historical and current tenure information relevant to that area.
The reasons for judgment have yet to be published, but in his remarks on the day Justice Dowsett acknowledged the willingness of the parties to address complex issues and adopt innovative methods, congratulating all parties on bringing the proceedings to a resolution.